Complete Care for All Your Commercial or Residential Landscape Needs
Owner Joe Simpson founded Simpson Landscape in 1985. Simpson set out to establish a faith-based landscape company built on principles of trust, honesty and respect. He has extended his personal philosophy of always exceeding expectations to his landscape company and has established a team of professionals who apply these values to everything they do and every relationship with customers, employees, vendors and the community they serve.
Our Mission
Simpson Landscape is dedicated to securing and retaining a high level satisfaction with our customers through providing a level of service unsurpassed in our industry. We will work to establish a positive reputation industry-wide; sustaining recognition from clients, competitors and industry experts alike. Our mission is to establish long term relationships with our clients through a high level of professionalism, integrity, quality service and commitment, while enhancing the beauty and value of the properties we serve.
Our Core Values
Simpson Landscape values those we work with and serve which has become the benchmark of our success in this industry. Through mutual respect, integrity, and professionalism we strive to maintain a high standard of ethical behavior. We are committed to increasing our knowledge and usefulness to our customers so that we reach our highest professional potential. Simply stated, we value excellence!
Passion

We make a conscious decision each and every day, to come to work with enthusiasm, and a strong desire to serve our customers, team members, and the community. "People don't care how much you know, until they know how much you care"

Quality

We will use only the best materials, while continually enhancing our services. Provide excellent service, while continually looking for ways to improve. Provide the safest work environment, never compromising our customer's or team member's safety.

Leadership & Integrity

As industry and community leaders, we are dedicated to being the best in all we do. We will treat everyone with professionalism and integrity. We will never compromise our moral and ethical principles. This extends to our employees, clients, vendors, and peers. We will be good environmental stewards by remembering who we are, and what we believe in.

Team Work

We will strive to work together with our clients, vendors, team members, and the entire community. We will show respect to everyone; support and cooperate with each other; remain adaptable to our ever – changing environment; and provide clear and effective communication to all parties; and give back to the community we serve.

Profitability

The effective use of labor and materials will result in a profitable company. we serve.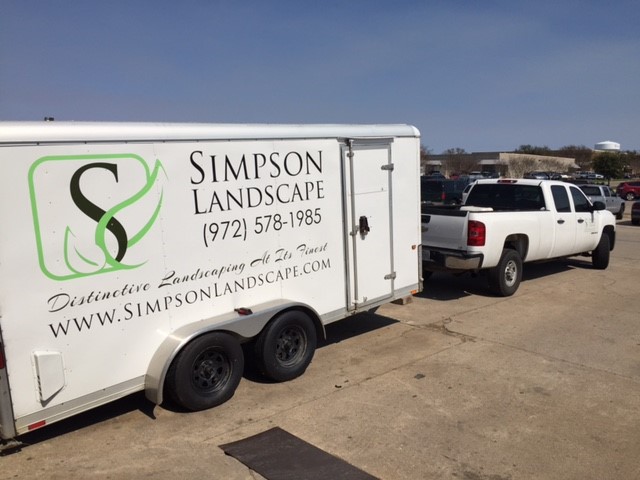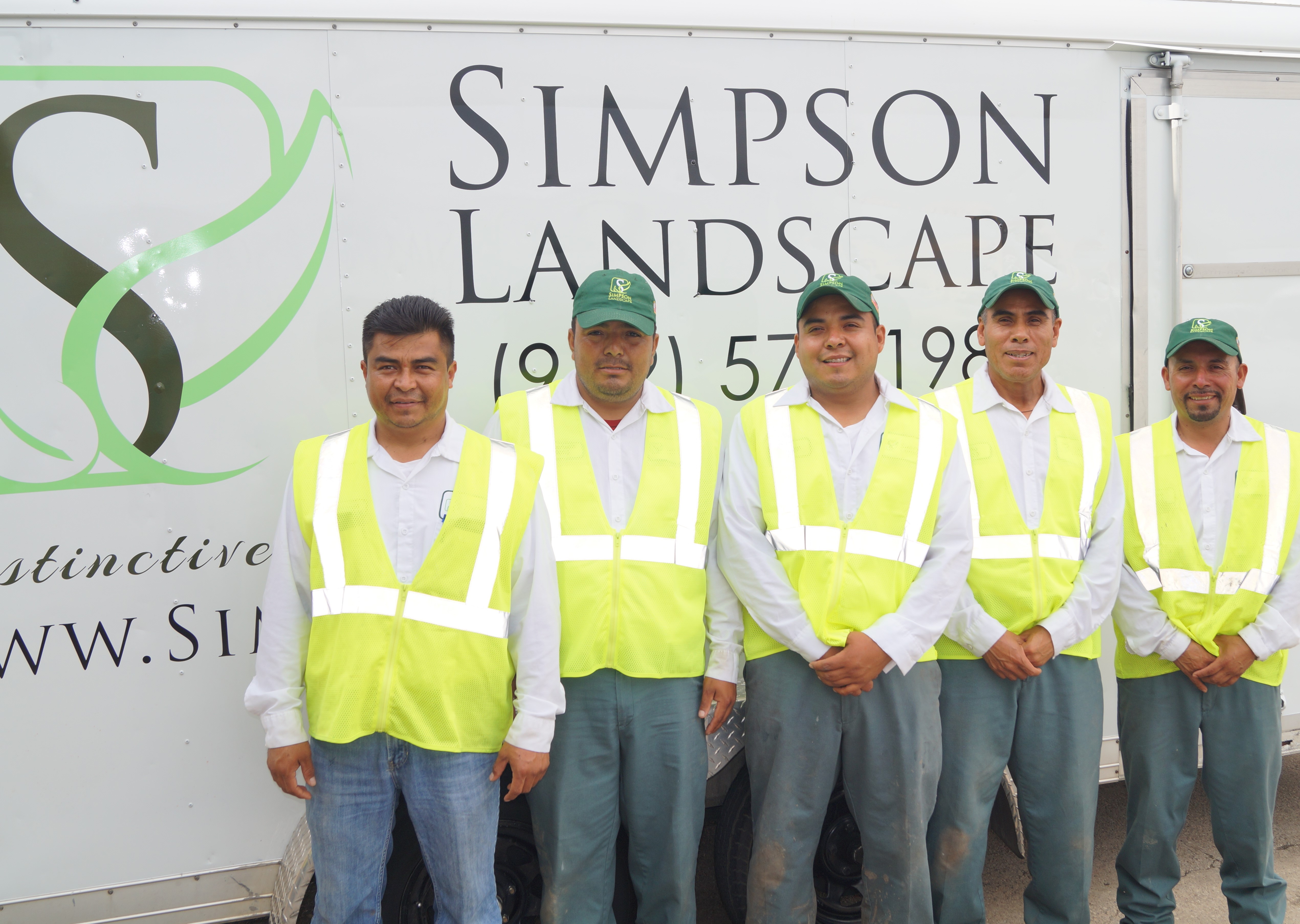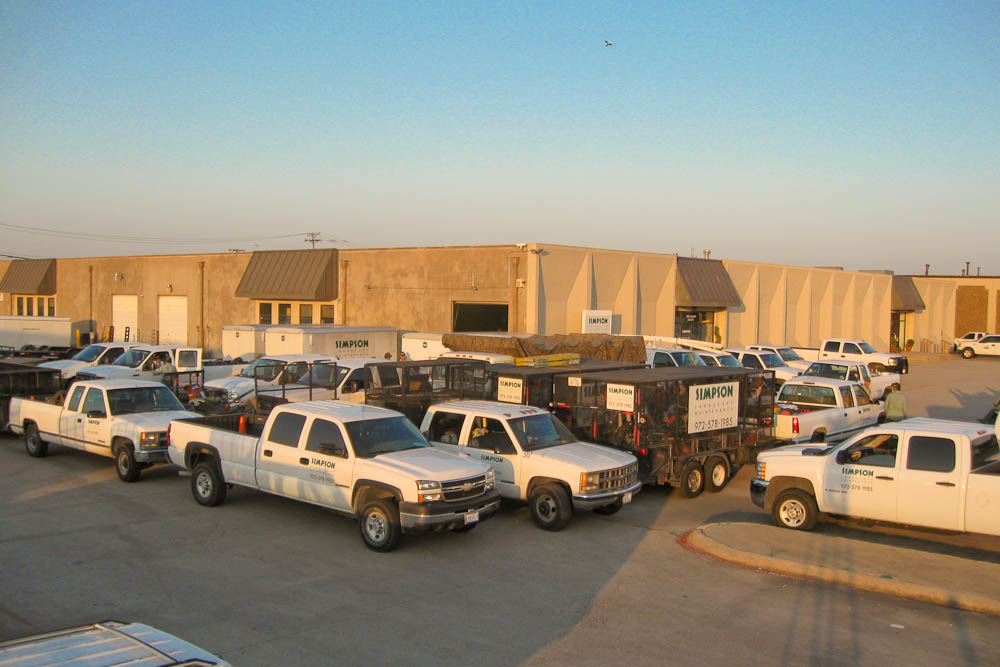 Our Team
Simpson Landscape's team members are dedicated to creating, constructing and maintaining quality landscapes for our customers throughout the Dallas/Ft. Worth area. Every employee understands our mission and core values and exhibits those qualities on every job on a daily basis.
Current team members bring experience ranging from 5 years to more than 20 to Simpson Landscape's operations. Simpson Landscape is committed to continuing education and providing employees with up-to-date information and training in all areas of the green industry.
Joe Simpson – Owner
Joe Simpson is the founder and CEO of Simpson Landscape. Joe established Simpson Landscape in 1985 to provide local businesses with quality landscaping solutions to beautify their outdoor spaces. Since then, Joe has extended the company's services to designing, constructing and managing landscapes for commercial and residential properties as well.
Born in Columbia, South Carolina, his family relocated to Plano, Texas when he was very young. Joe showed his entrepreneurial spirit, at the early age of 13, by starting his own mowing business, to earn money for his first hunting rifle.
He graduated from Plano Senior HS in 1979, and continued his education at Southwest Texas State University, earning a degree in business marketing. He put himself through college, working summers and breaks, in the landscape industry. After graduation, he landed a job, as a marketing rep for a local computer software company. He quickly realized, he was not cut out, to sit behind a computer all day.
His passion had always been for the outdoors, and he was blessed with a servants heart, and a strong work ethic. He would take a chance, and use his marketing knowledge, along with his experience in the landscape industry to start his own business.
Simpson founded his faith-based landscape company on principles of trust, honesty and respect. The small company grew quickly and has now become a leader in the commercial landscape industry throughout the Dallas/Fort Worth area.
He's been happily married to his wife Sandra for 25 years. They have two beautiful children, Ally 21, and Joe Jr. 11.
When Joe's not working, he's usually enjoying nature, and spending time with his family and friends.
Sandra Simpson – VP Marketing
Sandra is the Vice President of Marketing for Simpson Landscape. "As VP of Marketing, my job is to simply, tell our story. We are a faith-based company built on principles of trust, honesty, and respect. Our focus is always our customers! We provide excellent service, using only the best materials, while continually looking for ways to improve our service, stated Simpson."
Sandra grew up in the Dallas area. She graduated from Bryan Adams H.S. in 1984, and completed her education at Texas Tech University in 1988.
She has been happily married to her husband Joe for 25 years, and they have two beautiful children, Ally 21, and Joe Jr. 11.
Sandra has a love for God, her family and friends, and making a difference in the community she calls home. In her free time, she's enjoying the outdoors and spending time with friends and family.
Casey Rhoades – VP Sales/Client Relations
Casey wears many hats, as VP of Sales and Client Relations for Simpson Landscape. Whether he's working on business development, bidding a job, or supervising our staff, his true passion is serving others. He demonstrates this each and every day, as he shows up, with a fantastic attitude, ready to tackle the day.
He's a sports enthusiast, who has a love for the outdoors. He enjoys skiing, kayaking, hiking, and camping. This love of nature makes the landscape industry, a perfect place for him to build his career.
Casey's currently pursuing a degree in Landscape Architecture, to add to his skill set and expertise in the green industry.
Bryce Ryan – Customer Relations Manager
Bryce is the newest addition to our management team. At Simpson, our customers come first. We are extremely fortunate to have someone like Bryce, communicating with our customers, and making sure their needs are met on a daily basis. His interaction with our current, potential, and future customers, is crucial to our growth and success. Bryce has a quiet confidence and charismatic personality, and he knows what it means to be part of a team. His fantastic attitude, work ethic, and humble nature, make him a pleasure to work with. He understands the importance of being a great listener, especially in customer relations, and he is always looking for new ways to learn and improve. Since joining our team, he has earned his TNLA certification, as well as his Commercial Pesticide Applicators License.
Born in Memphis, Tennessee, his family relocated to Plano, TX, where they raised Bryce and his two sisters. He graduated from Plano Senior High in 2006, and continued his education at Texas Lutheran University, soon transferring to Ole Miss. He was one of the select few, talented enough, to play college football, while pursuing a business management degree. His active lifestyle, love for the outdoors, and passion for team sports, make him a perfect fit for the green industry and Simpson Landscape.
When Bryce isn't working, you'll find him with family and friends. His true passion, is building a life with his beautiful wife Leah and their six year old son Kydrick.
Leonardo Martinez – Director of Landscape Enhancements
As Director of Landscape Enhancements, Leo supervises all aspects of our field operations. Whether he's leading our morning roll-outs, bidding a job, or working on a landscape design, you can be sure his calm demeanor and can-do attitude inspires everyone he comes in contact with.
For 21 years Leo has been a dedicated and loyal leader with Simpson Landscape. Those who have worked side by side with him for years describe him as solid, hard-working, positive, and dependable.
Leo is a family man through and through. He and his lovely wife Esmeralda have 3 children: Juan Pablo 9, Valeria 7 and Julieta 6. They enjoy spending time together, playing soccer and video games, going to the park and movies and taking their kids to the circus every year. Leo says, "Nothing brings my wife and I more joy than to see a smile on our children's faces when we're spending time together."
Shannon Warren – Business Manager/Administrative Support
Shannon has been the voice of Simpson Landscape since 2003. As business manager, she makes sure the day-to-day operations, run as smoothly and efficiently as possible. Her positive attitude, sense of humor, and willingness to learn and grow, are just a few ways she adds value to the company.
She grew up in the Dallas Ft. Worth area, and graduated from University of Texas at Dallas.
Shannon is all about family! Her and her husband Tim, have been happily married for 30 years. They've raised two beautiful daughters, Kaelan and Morgan. Even though, Tim has always been the man in Shannon's life, there's a new sheriff in town, and his name is Zeke, their first grandbaby!
Willy Deleon – Lead Mechanic/Shop Supervisor
Simpson Landscape runs smoothly and efficiently as it does, thanks to amazing team leaders like Willy. He manages all aspects of shop operations, while ensuring our equipment is properly maintained and ready to go on a daily basis.
He's been an intricate part of our team since 2003, consistently going above and beyond, each and every day. Willy is a man of faith, and his hard work and dedication, have not gone unnoticed. He is a wonderful example, of how Christians are to conduct themselves in the work place. A scripture displayed in our shop reads, "Whatever you do, work heartily as for the Lord and not for men", and this is obviously a scripture Willy lives by.
He was born and raised in Guatemala. In 1993 he graduated from the Institute of Industrial Technology, earning a degree as a Gasoline and Diesel Technician. In his free time, Willy enjoys playing guitar and piano, and spending time with his family. He and his wonderful wife Nora have been blessed with 3 children, Isaac 8, Daniel 6, and Rebecca 4.
They are active members of their church family. Together, they share a passion for God and sharing God's love with others.